We all have to make a living, therefore we'd better choose a career that not only pays the bills, but it also helps us getting hitched. There are definitely a few professions which are regarded more sexy than others.
Therefore, I have selected six sexy female professions which falls into that category. In this blog post, I'll take a closer look at them to find out why they might be more appealing to men than other ordinary jobs.
My non-representative personal list of the hottest female professions consists of jobs that I consider sexy, and as an escort, I often incorporate them into exciting role games to fulfil my clients' erotic phantasies and to spice up my escort dates.
At this point, you might think to yourself: it all sounds cool, but how can anyone tell which job is recognized as "sexy" and which one isn't? Nowadays, there are data banks and market research firms available for almost any topic that you can think of. With the blooming era of dating apps (such as Tinder) it is quite easy to determine which jobs are the so called "sexy" ones.
Especially now, that most dating apps have made it an option to include your occupation on your profile. This allows people to know what you do with your time and how you earn a living, as well as the type of character/person you might be; most people's personalities tailor to their career. Or is it the other way around? Either way, depending on your occupation, listing it on your dating profile can be a huge advantage, but I would refrain from giving out too much details, you never know who you might bump into online. I also highly advise you not to lie about your job merely to cast yourself in a better light. Nothing is more pathetic than someone who lies in order to make himself look/feel better.
All in all, based on your chosen profession your dating success can be predetermined, but surely having a promising career is not enough for long lasting love life. You need to add your own charm, humour, looks and personal touch.
So let's see which professions made it to my non-official list without ranking them into order of importance or value:
Personal Trainer
Now I'm not sure if men are automatically attracted to trainers, or if an abundance of attractive women just happen to choose a career in physical therapy. Either way, physical therapy ranks among the top as the most right-swiped (attractive) job for women. When thinking about it, physical therapists are, more than likely, in great shape and care about the well-being of their body. Quite frankly, a nice physique is more than enough to induce drooling within men. In addition, personal trainers are friendly, outgoing; they are good leaders and have excellent sales skills, which helps to sell themselves on the dating scene as well. All these combined ensures a rock solid presence on the dating portals and to acquire successful dates in real life.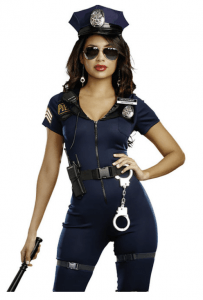 Police Officer
As a woman I find police officers really sexy. I am not sure if it has to do with that uniform they are wearing, or the assumption that those guys are strong and physically fit. In Switzerland I particularly like the forces of law enforcement. They look hot and I like the way they treat the public, they have good communication skills and a confident attitude. Becoming a police officer takes some training and they must possess essential personality traits, such as good common sense, compassion and the ability to deal with a wide array of situations. The job is so wide ranged that those guys -and women too- must be able to adapt to day to day situations smoothly. These skills are definitely useful when it comes to relationships. I am sure the female police officers possess these positive traits too, and it makes them rather appealing to men. Which naughty guy does not want to be punished by a sexy female officer who is not afraid to use her authority? And let's be honest: a shapely female body in a sexy police uniform sweeps just about any guy off of his feet.
Teacher
I'm not sure what it is, but for men, there is something about an attractive female teacher that really gets their blood flowing and their minds fantasizing. There are plenty of movies -from comedies to porn movies- showcasing young students flirting and making out with their teachers.
Ever since I was a high school student, the sexy teacher has been one of my top sexual fantasies. I remember having a really hot guest teacher straight from sunny California, who thought us English for an entire semester. All the girls, including myself used to love going to his class and sure, we were all over him. For guys it might be due to the authority a female teacher may possess or the excitement of being with an older woman and someone they surely aren't supposed to, but the scale for rating teachers is definitely skewed in their favour. Because being a teacher, without a doubt, makes semi-attractive women (and men) just that extra bit attractive and desirable.
Entrepreneur
Inherently, men (and women) are attracted to people who are go-getters and do exactly what they set out to do. The career that comes closest to these characteristics -in my opinion- are entrepreneurs. With all due respect, women entrepreneurs aren't something you hear of every day; it is far more often that you hear of male entrepreneurs and their up-and-coming businesses. With that being said, a female entrepreneur is sure to be a badass bitch that has herself all figured out. An entrepreneur is sure to be a fun time and someone who isn't afraid of a little rough play. In my opinion, they tend to be busy individuals who are particularly short on time, so if the chemistry is right, then there aren't too much time wasted before the first sex happens. So how on earth would all these not make a man wanting to nail down a power woman like that?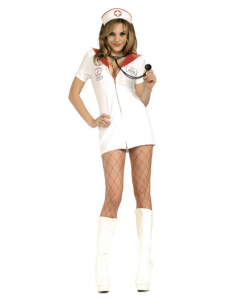 Nurse
This one is definitely a classic! When a girl tries to dress up for her first role-play with her lover the chosen custom -almost 100% – will be THE SEXY NURSE outfit: short white skirt, revealing cleavage and a cute little hat on her head. This is almost always a direct hit! Sex shops often showcase this outfit in their shopwindow to attract (male) attention. The fantasy of being in the caring arms of a loving, soft nurse calms any hectic guy down: he is lying sick in the hospital bed when a young, attractive nurse shows up with dinner and medicine. She asks him how he feels, pets gently his arm and gives him a spoonful of delicious food. Her comforting hands gently pulls the blanket up making sure that the poor, sick man is warm and comfortable. She whispers gently in his ears promising him a fast recovery. Then it all starts to become more and more erotic. She kisses first his forehead, then her lips gently tastes his neck. She becomes aroused herself and cannot resist to kiss his lips and to touch his best parts. She lets him touching her breast and wet pussy and encourage him to get her naked right there in the hospital bed. All of a sudden, the "dying", innocent patient feels more and more energetic until he is able to go all the way with her to apical heights. LOL..and a miracle has just happened..the unsuspecting guy is recuperated and feels fantastic…end of story. 🙂
Does anyone recognize this little tale? Or shall we play it together to brush up your memory during our next escort date?
Flight Attendant
Do you remember Brittney Spears acting out as a sexy bombshell flight attendant in her video clip "Toxic"? At the latest at this point, the world had experienced the charming representatives of an Airline in a different light. From that time on, they are not just ensuring that safety and security regulations are followed correctly by passengers, but they also trigger serious sexual fantasies in those male minds. Britney and her fellow "co-workers" appear absolutely hot in the clip and their attitude is so provocative that hardly any guy can board their next flights without dreaming of fucking a stewardess in the tiny toilet.
Other than the sexual aspect, these ladies are well traveled and perhaps more open minded due to the travel aspect of their job. In addition, they are mostly young, fit and well groomed individuals who also possess kind manners and a confident attitude. Having said all this, there is nothing holding them back from scoring hot dates on- and offline, both in the air and on the ground.
Do you think that one or more of these jobs are really sexier than others? Give yourself a second to think about it! I know personally a couple of men who are particularly attracted to some of the above listed professions and enjoy including them to our role games during our escort dates.
Yours,
Eline