One purpose of my blog is to share some of the things I do with my audience. Things that I find funny/entertaining/interesting enough to recommend others. So let me give you a little program timetable to encourage you to get out and have fun! There are so many things to do in a city like Zurich. One can visit a museum or exhibition, dance the night away at open air festivals and clubs, or simply go for a movie and dine out in wonderful restaurants. These are the good old fashioned activities, which you have done many times and probably sick of it by now. So let me draw your attention to something more spicy and exciting program going on in our neighbourhood!
Last weekend I was lucky enough to attend a breathtaking show right here in Switzerland running by the name of "Ohlala". I received two VIP tickets for this extraordinary, erotic and somewhat bizarre show. 
From the very first moment on we were treated like true VIP's: welcome Champagne in a bucket of ice and a marvellous plate of Sushi as well as other finger foods were served in the lounge area of the tent. The location itself looked so high-end and fancy, that it made me forget that I was actually sitting in a circus tent.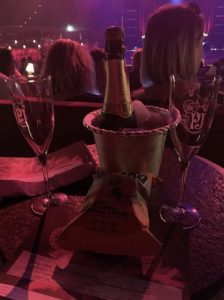 Keep in mind: it's not your traditional circus with performing seals and clowns. It's Switzerland's biggest circus of sex.
There are tons of inappropriately weird and wonderful performances to satisfy your every need and desire – a fearsome dominatrix, a fire-breathing pyromaniac whose stunts are close enough to singe your eyebrows, sexy strong men, upside down hunks in trunks,  sensual hula hoop girl brandishing sequin nipple tassels, and a scantily-clad aerial performer who emerges from a full-sized bath dripping wet to begin his routine. There was even a performer -honestly, I am not sure if it was a man or a woman- performing an extraordinary act in a condom like tube up in at least 5 meters hight. This isn't just a show about sex, it's a full-blown orgy.
Providing bucket loads of sex and comedy in equal measure, expect champagne on ice, trousers ripping off at the velcro seams, a hilarious Only Gay in the Circus performance and sexual tension to the extreme. The gay performer/host was one of my favourite characters of the entire show. He was a fabulously singing "drag queen" featuring spectacular outfits paired with colourful feather stoles and (of course) high heels. He was very entertaining and I could not stop laughing at his jokes.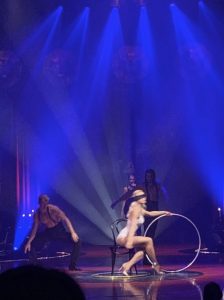 Another bonus was the live music performance with world class singers and band. The well selected songs harmonised greatly with the nature of the show and frankly: one could feel like attending a real rock concert in one of the famous stadiums. 
Expect beautifully toned bodies, sparkling outfits and tons of naked skin lavishly moving around on the stage. This show is definitely an adult only performance so please organise a nanny for your kids, because this is the circus where they are not allowed to come with you! LOL
All in all, I recommend you to get tickets for this unique and intimate show, while it is available in town. This is one circus you will most definitely want to run away with and perhaps that would be one of the best decisions you have ever made! So are you up for a 
I hope my little review made you curious enough to go and get tickets today! Enjoy the show and dare to do something different once in a while! That spices up your life in a very pleasurable way and who knows, maybe it will even arouse both you and your partner in crime. 
Love, 
Eline