Almost exactly a year ago I completed a week long tantra seminar in Germany. Even though I heard a lot about this sensual massage technique before, I did fully understand the real meaning of it. I was determined to try something new to spice up my services and possibly implant the newly learned techniques into my sexual life. Being an escort requires to come up with new things in order to keep my clients satisfied. It is not just about going on dates and have fun with the clients. As I like to build long term and lasting relationships, I believe it is important to always refresh my "repertoire".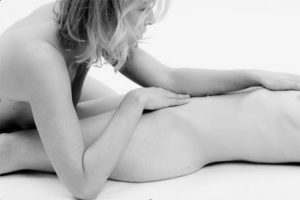 So what is exactly tantra and tantric massage? It is an old healing technique which was formed many centuries ago. It was formulated to release natural energy from within the body to deal with physical and emotional trauma. As a matter of fact, tantra is practiced in several ways. Tantric yoga, tantric sex, tantric massage and tantric meditation are the different types of tantra practiced in our society today. It's not one of those arts which can be mastered within a few days. It takes several years or even decades to perform the different forms of tantra with perfection. Having said that, it's possible to learn few basic tantric massage to provide pleasurable moments to your partner, which is exactly my goal. I am not looking to be a fully trained professional masseur, but to incorporate some of the learnt elements into my sexuality.
Being a body to body massage soaked in essential oils, I could really resonate to this sort of practice.
Before the seminar had began I have booked myself a session at a tantra massage salon in Cologne. I was nervous and excited in the same time. I decided to book a female masseur, for two reasons: I did not want to attract false attention from a male provider, secondly I wanted to feel the soft skin and tender touch of a woman. The thought of being massaged in an erotic manner by a woman totally turned me on. At the beginning, I found the ritual strange, but as we were getting deeper into the procedure I started to feel an unbelievably nice and intense flow of energy. I could really feel her powerful sexual energy. My knees started slightly shaking and I felt hot flashes running through my body. It was very different from an "ordinary" sexual arouse. I would describe it as a very deep and meaningful connection between the two of us. My soul was pampered in a very pleasurable way. The whole massage took more than two hours and I really enjoyed every minute of it. I could not reach an orgasm, but it was fine with me as my goal was not to be sexually satisfied, but to fulfill a new erotic experience.
The week long seminar opened up new aspects to the human sexuality. The soft touch and massage technique is really a fantastic source for extraordinary pleasure. Although it is a very sensual massage, there is no sexual intercourse between the massage provider and the receiver, yet a higher level of joy and even orgasm can possibly be reached by the end of the ritual. In most cases, this massage takes place between individuals who are in close relationships, but this may not always be the case.
During the seminar we had daily meditations, yoga practice and vegetarian meals which helped me to establish a deep connection to myself. We danced every day wearing nothing but a "lunghi" and shared hugs and lots of positive love energy. Now I know that sexuality isn't just an intercourse. Sexuality is beyond a great f*ck, it involves gentle and emotional touches and open spirit between individuals. I use the term "individuals", because during the seminar we practiced massage with our own gender as well. Men massaged men and women massaged women without any sort of misunderstanding. An incredibly flow of love and harmony took over the participants. We were all spirits and we recognized our higher intelligence within. That unanimous love and positive energy filled me up and lasted for weeks even after the seminar had ended.
All in all, if you are a person who likes trying out new things in life, then tantric massage is a certain thing to consider in your life. Tantric massage will arouse deep sensual feeling within you, and you will enjoy the overall pleasurable experience. So if you are ready to go on a joyride with me, then let me know, I am looking forward to trying out new things with you soon.
Yours,
Eline